This was an arc, I snuck in while I was doing a buddy read. I was so pleasantly surprised how good this book was.
Meet my Josh.
I must say the second I read his description this face popped in my head.
This is the story about what happens when girls get burned by guys. Sometimes they wrap their hearts up so tight that when true love finally comes around, they are so scared of getting hurt again they let it slip away.
Years before, Nicole was in college and decided to run to her handsome Greek boyfriend's to be sweet and make him some cookies while he was busy away studying. On her trip to his room, she ran into him leaving Mandy's room looking quiet rumpled. The douche didn't even try to hide what Mandy and him had been up to. Of course caught, he skeedaddled leaving the girls behind destroyed, ONLY, Mandy and Nic decided they should heal together along with all of their friends making them friends for life. But to protect their hearts they came up with CODE RED. This is for whenever you meet a guy you simply can't control yourself around, you call the code and the other girls help you through. I for one, wish I had had this when I was young, but ya know...
Now, present day, all of the girls except Nic and her bff Jen have settled and married. Nic is happy with how her life is. She has a schedule she likes, Supernatural on Friday nights, a job that gets her by, 2 male cats that adore her, best friends for life, and a slew of one night stands that she kicks out the minute the she's done with them. Then she meets Josh. He is her new co-worker/partner/boss and she knows the moment she sees him he is her code red.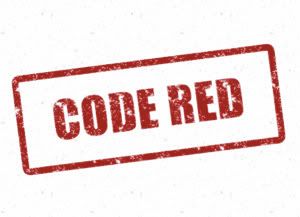 This book, was so fun, heart-warming, and just made me smile. Nicole's friends don't exactly go along with her Code Red. They think he's hot and simply think he's the one for her. They are hilarious and very blunt. Josh also sets his sights on Nic and decides he has to have her and all of this cause Nic to starting slipping out of her comfort zone and straight into slighty crazy, slightly needy, and majorly confused Nic. This leads to plenty of texts, emails (including one hilarious email of why BOB boyfriend is better than any other boyfriend), phone calls, skype conversations and even shots of tequila leading to a major hangover.
"You've had me since the moment I saw you."
I loved all of the characters. Nic's friends were so funny and supportive in their own way. Josh was amazingly patient, sweet, and sexy. This was a different feel than what I have been reading lately but I really enjoyed it. Josh ended up being so gentlemanly. He starts by being just sexy and fun to be around, but then things change and he announces his intentions, but when he scares Nic off he pushes her into a date with another guy that goes horribly wrong but incredibly right as well.
"Maybe Mr. Right might have overreacted because he was jealous. You should ask him out so he knows you're interested."
But then, Josh turns into the perfect gentleman, including walking her to her door for goodnight kisses, and dinner dates. Something Nic was not used to doing.
I highly recommend this book, especially if you are looking for a little lighter read. There is angst and frustration getting these two together, but there is also plenty of laughs, and one so very hot, so very determined, so very patient awesome man.
ARC was provided by NetGalley and The Writer's Coffee Shop Publishing House in exchange for an honest review.