"Excepting with you, Jessica. You, lass, are the exception to everything. I'm not just stuck with you. You fit me here, woman." He thumped his chest with his fist
Oh these sexy alpha Highlanders. They can be such arrogant arses when you first meet them but once they decide who their woman is then they turn into big huge possessive, sexy, sweet talking Neanderthals. Oh my gosh and since they are all from the past and have one way or another made it to our century can be quiet hilarious over the simple things in life we pay no attention to but completely throws them and has them saying the absolute funniest things.
"These resemble no chicken fingers I've ever seen, lass. And I saw a fair amount of chickens in my day.You must grow fowl considerably larger now. I shudder to ponder the size of their beaks.
The reader starts the story with Jessica overdoing herself in school. She barely has time to sleep must less have any kind of life. That's how she meets Cian. Running an errand for her professor late at night. Instantly her life is turned upside down. For starters she meets a man who is living trapped in a mirror but to make matters worse since she has accidently seen that mirror she has people coming to find her to kill her. It takes a little time but Cian convinces her he is her only source of protection. And so the story begins.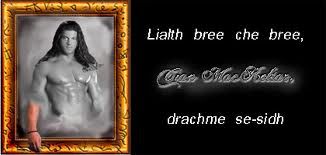 Thank goodness for the act of Voice Cian can use or right from the start this girl would have had even more trouble for herself. Murdered people, fights with airport employees, strange emails, it's one thing after another. To make matters even more difficult, Jessica nor Cian know each day when he will be sucked back into the mirror, leaving her vulnerable and sometimes on her own to figure out what to do.
Thank goodness for relatives who life in Scotland who have traveled to the future. I love that Dagues and Drustan were in this book as well. Since everything impossible has already happened to them and their wifes, they were the perfect help Cian and Jessica needed. Not to mention they had beds, food, showers, saftey and more than one place to get so wrapped up in each other they forgot they had an audience.
"But if hell were the price for twenty days with you, i'd condemn myself again and again."
I was grabbed really quickly into this book and had a extremely hard time putting it down, especially once I got to the 65% mark. All books in the series has really pulled me in. I love these kilted heros. At the end of this book the author left a note saying that she doesn't plan on leaving this series anytime soon and I hope that means we get plenty more to this series. I just can't get enough.