I'm trying....to put my feelings into words...I was given this ARC by the author a couple of weeks ago and sadly have just now got around to reading this. But my feelings at the ended looked a little like....
I can't even believe the end of this. Poor, Poor Myra. It's like bad things are just drawn to her. She has lost her entire family. Her ex is a complete douche who left her for his assisstant. Not to mention she works with them and has to see it flaunted everyday and then finds out in a jealous rage the bitch assisstant is preggers. So, she flees town and tries to start over in her Grampie's old house that is falling apart and has to be repaired. So, then she runs into the crazies of her home town and meets one very hot but very angry contractor.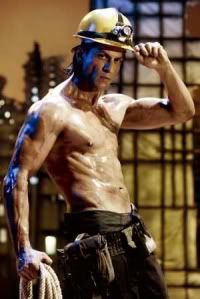 (btw, this is not how I picture Dylan, just the only pic I found)
Slowly, and I say that because it was my only draw back of the story is it sometimes drug out a little, but at the same time was a realistic build up of there relationship. Dylan the contractor and Myra start to form a bond. Unprepared both realize they want the other but try to hold back. Myra is lonely, she has no one except for her long winded neighbor and her AWESOME BFF, that she has had to leave behind to escape her past. Dylan has a....dark, horrible past, for which at the end of book we still don't know the details but get a brief glimpse into what may have been.
I FREAKIN can't believe the end of this story. I want to hate Dylan, but I seem to think it's all going to be some kind of miscommunication. OR at least I hope so.
This Arc was given to me to read by the author for an honest review. I can't wait until the next book.