"If you don't like the road you're walking, start paving another one."Meet Derek...oooh laaa laaa
"Let me be clear, Ginger, since you insist on talking in circles. I want you underneath me in my bed. I want to buried inside you so deep that I have to remind you of you own name. And I want those motherfuckers leering at you from the other side of the bar to smell me on you for a week afterward. I just wanted to be up front." And Ginger...
"Are you looking for something illegal so you'll have an excuse to handcuff me, Derek?"
Ginger is a 23 year old from Nashville, raised up by a mother who is completely unfit. Since as long as she can remember Ginger has raised her little sister. Ginger did whatever it took to try to keep, Willa, protected from their mother's craziness and also to keep her fed and clothed. One night she comes home to find her mom passed out on the couch holding a purse that is full of money. Deciding this is her ticket out she snatches the money and her sister and their Dolly Pardon statue and starts driving and they end up in Chicago. Chicago means freedom from their old life, new beginings but it also brings her to Lt. Derek Tyler. Ginger and Tyler's first meeting is anything but neighborly. But both leave the meeting feeling immensely attracted to the other.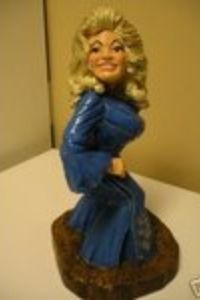 This book was an extremely fast read. So, I don't want to tell many more details because I don't want to spoil anything. But man I loved this book. Ginger was this sassy girl who protects herself behind her looks. She knows that men are attracted to her and uses that to her advantage to try to help herself and Willa. All she strives for is to protect Willa and give her a better life. And Willa, omg, I loved her. She's so sarcastic, lol. The things she said. She knows her sister has made huge sacrifices for her and I really appreciated that she also tried to protect her sister too, in her own way. And then there's Derek, omg, I think I'm in love with this guy. He was such an alpha male but at the same time could be so sweet to Ginger. Some of the things this guy said, wowza.
SO. Damn. Hot.
"Do you feel that baby? That's your man moving inside of you."
This book was fantastic. I wish it would've been a little longer because I devoured it. It was super steamy, tons of angst, a dominating hot alpha cop, two sassy sisters, some danger, and of course a happily ever after. I can't wait for more books in this series and I highly recommend it.